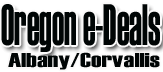 Your cart is currently empty
About Us
Oregon E-Deals is a site owned and operated by Bicoastal Media owned radio stations in southern Oregon and northern California. We are committed to bring you GREAT VALUE on products and services in a safe & secure on line environment. Oregon E-Deals is a great way to save money! Check our site often for new gift cards at substantial discounts. Have questions? Check our FAQ tab or use the contact form! Simply put, with our 5 radio station buying power, we can hunt down great deals on items you want, and sell them to you at a significantly lower price.
Frequently Asked Questions (FAQ's)
Q: Who operates Oregon E Deals?
A: Bicoastal Media, Southern Oregon/Northern CA group

Q: How do I pay for my purchased Gift Cards?
A: Coastal E Deals accepts all major credit cards on our SECURE site.

Q: How do I receive my purchased Gift Cards?
A: We generallly mail them to you, so please make sure you double check your address, or your neighbor might thank you later!

Q: Are there any restrictions on my purchased Gift Card?
A: Please carefully check the OVERVIEW Tab on each item for any applicable restrictions.

Q: Can I get CASH BACK from my purchase, using a Gift Card?
A: No. If there is a credit balance after purchase, the business will issue a revised credit amount, in store.

Q: Can I purchase multiple Gift Cards from one business?
A: Yes, unless otherwise noted in the OVERVIEW.

Q: How often do you update Oregon E Deal items?
A: Our goal is to keep Oregon E Deals 'fresh' with new WEEKLY offerings. So, check back each week for NEW DEALS.