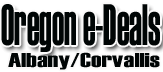 Your cart is currently empty
BE YOU - PERSONAL COLOR ANALYSIS (HRA21-DB)
Price:
0.00
$285.00
$171.00
A COLOR ANALYSIS FOR ONE PERSON, FROM BE YOU PERSONAL COLOR ANALYSIS IN ALBANY. IT'S A THREE-HOUR SESSION FOCUSED JUST ON YOU. YOU'LL DISCOVER THE COLORS THAT COMPLEMENT YOU BEST FOR CLOTHING, HAIR, AND MAKEUP. YOU'LL LEARN HOW TO SHOP FOR YOUR COLORS SO YOU'RE NOT WASTING MONEY ON ITEMS YOU DON'T FEEL GOOD IN. IF YOU'RE IN A COLOR RUT AND WANT TO FEEL ATTRACTIVE, VIBRANT, AND CONFIDENT ABOUT THE WAY YOU LOOK, CONTACT BE YOU PERSONAL COLOR ANALYSIS TO SCHEDULE AN APPOINTMENT, AT BEYOUPCA.COM. THAT'S B-E-Y-O-U-P-C-A.COM.
*NOTE* THIS ITEM IS A CERTIFICATE FROM THE UPCOMING RADIO AUCTION THAT WILL BE MAILED TO YOU AFTER THE RADIO AUCTION IS OVER THIS SATURDAY. ALL ITEMS ON OREGON E-DEALS ARE EITHER GIFT CERTIFICATES OR PHYSICAL TICKETS THAT MUST BE PRESENTED TO THE BUSINESS. E-MAIL RECEIPTS/ORDER CONFIRMATIONS OF PURCHASES ARE NOT ACCEPTABLE FORMS OF THE PURCHASED CERTIFICATE.
ALL ITEMS ARE SOLD AS IS.
ALL SALES FINAL.
NO CASH VALUE.
NO REFUNDS.
Currently there are no reviews for this product. Share your opinion with others, be the first to write a review.