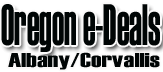 Your cart is currently empty
Corvallis Sewing and Vaccuum- Nellies 'Wow Mop' Kit (SUM23-DB)
Price:
0.00
$229.00
$138.00
A Nellie's 'Wow" Mop is cordless, lightweight and rechargeable and so easy to use! Even Grandma can do it! With high frequency pads that oscilate 1000x a minute. The Wow Mop removes dirt and grime effortlessly. The Wow Mop comes with a pair of Nellie's Wet Floor Cleaning Pads that are reusable and machine washable.
This item is a certificate that will be processed within 2-3 business days. Once the order has been processed it will be placed in the mail via USPS. We do not have tracking ability or a delivery timeline for items to be delivered by the postal service. If you would like to pick up the items directly from our studios, please call (541) 926-8628 to make arrangements. General Pick-up hours are Monday-Friday 9am -3pm. (other times available by appointment). Most general merchandise items on Oregon Edeals (guitars, furniture, stoves, etc.) are certificates or physical tickets that must be presented to the business in order to claim the item. Email Receipts and order confirmations are not acceptable forms of the certificate needed for item redemption. Please view items at the participating business or business website prior to purchasing, in order to ensure it's what you want, because all sales through Oregon Edeals are final.
All items are sold as is. No Refunds.
Certificates may not be redeemed for Cash.
All Sales Final.
Currently there are no reviews for this product. Share your opinion with others, be the first to write a review.